Ford Escape: Electronic Engine Controls / Removal and Installation - Camshaft Position (CMP) Sensor
Materials
Name
Specification
Motorcraft® Silicone Brake Caliper Grease and Dielectric Compound
XG-3-A
ESA-M1C200-A
ESE-M1C171-A

Removal
NOTE: Removal steps in this procedure may contain installation details.
NOTICE: Do not pull the engine appearance cover forward or sideways to remove. Failure to press straight upward on the underside of the cover at the attachment points may result in damage to the cover or engine components.




Remove the engine appearance cover nut.


Place your hand under the engine appearance cover at each grommet location and pull straight up to release each grommet from the studs.


After all of the grommets have been released from the studs, remove the appearance cover from the engine.

NOTE: Lubricate the O-ring seal with the clean engine oil.

NOTE: The O-ring seal is to be reused unless damaged.

Disconnect the CMP sensor electrical connector. Remove the bolt and the CMP sensor
Torque: 53 lb.in (6 Nm)
Installation
To install, reverse the removal procedure.




Position the engine appearance cover onto engine with the grommets aligned with the studs.


Press down on the engine appearance cover at each grommet location to attach the grommets onto the studs.


Install the engine appearance cover nut.
Torque: 44 lb.in (5 Nm)

If the engine appearance cover stud bolt is loosened or removed, it must be installed/tightened into the valve cover.
Torque: 62 lb.in (7 Nm)
Diagnostic Trouble Code (DTC) Chart Diagnostics in this manual assume a certain skill level and knowledge of Ford-specific diagnostic practices.REFER to: Diagnostic Methods (100-00 General Information, Description and Operation)...
Special Tool(s) / General Equipment 303-476 (T94P-9472-A) Socket, Exhaust Gas Oxygen SensorTKIT-1994-LM/MTKIT-1994-FTKIT-1994-FLM/FM Materials Name Specification Motorcraft® High Temperature Nickel Anti-Seize LubricantXL-2 - Motorcraft® Penetrating and Lock LubricantXL-1 - Motorcraft® Silicone Brake Caliper Grease and Dielectric CompoundXG-3-A ..
Other information:
System Operation Active Park Assist System Diagram Item Description 1 Rear door speakers 2 Front door speakers 3 Audio system display 4 TRM 5 BCM 6 PCM 7 ABS module 8 DSP 9 ACM 10 IPC 11 APIM 12 PSCM 13 with 10 speaker system 14 GWM 15 S..
You cannot switch the system off. Adjusting the Pre-Collision Assist Settings You can adjust the following settings by using the touchscreen controls in the pre-collision assist menu: Change alert and distance alert sensitivity to one of three possible settings. Switch distance indication and alert on or off. If required, switch automatic emergency braking on or off. If required, sw..
Categories
Locating the Vehicle Identification Number
The vehicle identification number is on the left-hand side of the instrument panel.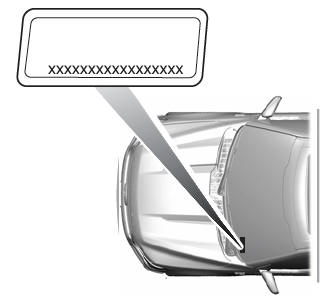 Copyright © 2023 www.fordescape4.com