Ford Escape: Climate Control System - General Information / Removal and Installation - Condenser Outlet Line - 1.5L EcoBoost (132kW/180PS) – I3 (Y1)
Removal
NOTICE: During the removal of components, cap, tape or otherwise appropriately protect all openings to prevent the ingress of dirt or other contamination. Remove protective materials prior to installation.
NOTE: Removal steps in this procedure may contain installation details.
Recover the refrigerant. Refer to the appropriate Recovery procedure in Group 412.

Remove the nut and position the A/C line aside.
Torque: 159 lb.in (18 Nm)

Make sure to cover any open ports to prevent debris from entering the system.

Remove the retainer and the condensor outlet line.
Torque: 159 lb.in (18 Nm)
Installation
To install, reverse the removal procedure.

NOTICE: Only use the specified material to lubricate the seals.

Install and lubricate new O-ring seals. Refer to the appropriate Specifications in Group 412.

Lubricate the refrigerant system with the correct amount of clean PAG oil. Refer to the appropriate Refrigerant Oil Adding procedure in Group 412.

Categories
WARNING: Always ride and drive with your seatback upright and properly fasten your seatbelt. Fit the lap portion of the seatbelt snugly and low across the hips. Position the shoulder portion of the seatbelt across your chest. Pregnant women must follow this practice. See the following figure.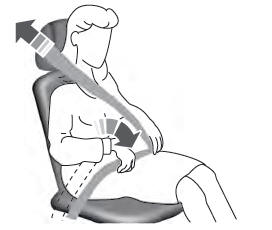 Copyright © 2023 www.fordescape4.com