Ford Escape: Engine / Specifications
Engine
| Item | Specification |
| --- | --- |
| Displacement | 2.5L iVCT |
| No. of cylinders | 4 |
| Bore/stroke | 89.0/100.0 mm (3.50/3.93 in) |
| Firing order | 1-3-4-2 |
| Compression ratio | 13.0:1 |
| Engine weight - (with flexplate) | 125 kg (275.58 lb) |
| Engine and transmission (HF45) | 241.3 kg (531.98 lb) |
Engine Oil
Viscosity
Specification
SAE 0W-20
Material: Motorcraft® SAE 0W-20 Full Synthetic Motor Oil / XO-0W20-QFS (WSS-M2C962-A1)
Europe only
SAE 5W-20
Material: Engine Oil - SAE 5W-20 (WSS-M2C948-B)
Engine Oil Capacity
| Item | Specification |
| --- | --- |
| Service fill including oil filter | 5.71 qt ( 5.4 L) |
Oil Pressure
| Item | Specification |
| --- | --- |
| Oil pressure (hot @ 2,000 rpm) | 200-414 kPa (29.0-60 psi) |
Cylinder Block
| Item | Specification |
| --- | --- |
| Cylinder bore diameter | 89.0-89.03 mm (3.503-3.505 in) |
| Cylinder bore maximum out-of-round | 0.008 mm (0.0003 in) |
| Main bearing bore diameter | 57.020-57.038 mm (2.245-2.246 in) |
| Head gasket surface flatness | 0.1 mm/general 0.05 mm/200 x 200 (0.004 in/ general) (0.0019 in/7.87 x 7.87) |
Piston
| Item | Specification |
| --- | --- |
| Piston Diameter (1) | 88.947-88.957 mm (3.5019-3.5022 in) |
| Piston Diameter (2) | 88.955-88.969 mm (3.5022-3.5027 in) |
| Piston Diameter (3) | 88.967-88.977 mm (3.5026-3.5030 in) |
| Piston diameter (DN) height from top of piston | 37.5 mm (1.48 in) |
| Piston-to-bore clearance | 0.0225-0.0475 mm (0.0009-0.0019 in) |
| Ring groove width - top | 1.03-1.05 mm (0.0406-0.0413 in) |
| Ring groove width - 2nd | 1.02-1.04 mm (0.0401-0.0409 in) |
| Ring groove width - oil | 2.01-2.03 mm (0.0791-0.07992 in) |
| Piston skirt coating thickness | 0.007-0.017 mm (0.0003-0.0007 in) |
Piston Pin
| Item | Specification |
| --- | --- |
| Diameter | 19.997-20.0 mm (0.7873-0.7874 in) |
| Length | 49.2-49.5 mm (1.9370-1.9488 in) |
| Pin-to-rod clearance | Floating pin |
Cylinder Head
| Item | Specification |
| --- | --- |
| Cylinder head flatness | 0.08 mm (0.0031 in) maximum overall, a maximum of 0.05 mm (0.0019 in) within 150 mm (5.9 in) |
| Valve lift @ zero lash (exhaust) | 8.065 mm (0.32 in) |
| Valve lift @ zero lash (intake) | 8.83 mm (0.35 in) |
| Valve guide diameter | 5.509-5.539 mm (0.216-0.218 in) |
| Valve seat width - intake/exhaust | 0.99-1.84 mm (0.038-0.072 in) |
| Valve seat angle | 45 degrees |
| Valve seat runout | 0.075 mm (0.0029 in) |
| Valve tappet bore diameter | 31.00-31.03 mm (1.220-1.221 in) |
| Cam bore diameter | 25.015-25.040 mm (0.984-.0985 in) |
Valve
| Item | Specification |
| --- | --- |
| Valve head diameter - intake | 34.85-35.15 mm (1.372-1.383 in) |
| Valve head diameter - exhaust | 29.85-30.15 mm (1.175-1.187 in) |
| Valve stem diameter - intake | 5.470-5.486 mm (0.2153-0.2159 in) |
| Valve stem diameter - exhaust | 5.465-5.481 mm (0.2151-0.2157 in) |
| Valve stem-to-guide clearance - intake | 0.0027 mm (0.00010 in) |
| Valve stem-to-guide clearance - exhaust | 0.0029 mm (0.00011in) |
| Valve face runout | 0.05 mm (0.0019 in) |
| Valve face angle | 45 degrees |
Valve Spring - Compression Pressure
| Item | Specification |
| --- | --- |
| Intake and exhaust (installed) | 18 kg (39.683 lb) |
| Intake (valve open) 9.2 mm (0.362 in of lift) | 46 kg (101.41 lb) |
| Exhaust (valve open) 9.2 mm (0.362 in of lift) | 46 kg (101.41 lb) |
| Free length | 47.91 mm (1.886 in) |
| Assembled height | 37.9 mm (1.492 in) |
Crankshaft
| Item | Specification |
| --- | --- |
| Main bearing journal diameter | 51.978-52.002 mm (2.046-2.047 in) |
| Production repair | 51.730-51.750 mm (2.036-2.037 in) |
| Main bearing clearance | 0.016-0.047 mm (0.0006-0.0015 in) |
| Connecting rod journal diameter | 51.978-52.002 mm (2.046-2.047 in) |
| Production repair | 51.730-51.750 mm (2.036-2.037 in) |
| End play | 0.220-0.450 mm (0.008-0.018 in) |
Rings
| Item | Specification |
| --- | --- |
| Width - top | 1.17-1.19 mm (0.0460-0.0469 in) |
| Width - 2nd | 1.17-1.19 mm (0.0460-0.0469 in) |
| Width - oil | 2.38-2.45 mm (0.093-0.096 in) |
| Ring gap (in bore) - top | 0.16-0.26 mm (0.006-0.0102 in) |
| Ring gap (in bore) - 2nd | 0.31-0.46 mm (0.012-0.018 in) |
| Ring gap (in bore) - oil | 0.15-0.40 mm (0.0059-0.0157 in) |
Valve Tappet
| Item | Specification |
| --- | --- |
| Diameter | 30.97-30.98 (1.2192-1.2196 in) |
| Tappet-to-valve clearance - intake | 0.22-0.28 mm (0.008-0.011 in) |
| Tappet-to-valve clearance - exhaust | 0.27-0.33 mm (0.010-0.013 in) |
| Tappet-to-bore clearance | 0.02-0.06 mm (0.0007-0.0023 in) |
Camshaft
| Item | Specification |
| --- | --- |
| Lobe lift - intake | 9.44 mm (0.371 in) |
| Lobe lift - exhaust | 8.18 mm (0.322 in) |
| Runout (1) a | 0.03 mm (0.001 in) |
| Thrust clearance | 0.09-0.24 mm (0.003-0.009 in) |
| Journal diameter | 24.96-24.98 mm (0.982-0.983 in) |
| Journal-to-bore clearance | 0.035-0.080 mm (0.001-0.003 in) |
aNo. 3 Journal - Supported by No. 1 and No. 5 journals.
Connecting Rod
| Item | Specification |
| --- | --- |
| Bearing clearance | 0.027-0.052 mm (0.001-0.002 in) |
| Bearing thickness | 1.496-1.520 mm (0.058-0.059 in) |
| Crank bore diameter | 55.025-55.045 mm (2.166-2.167 in) |
| Pin bore diameter | 20.003-20.015 mm (0.7875-0.788 in) |
| Length (center to center) | 151.8 mm (5.976 in) |
| Side clearance | 1.95-3.05 mm (0.076-0.120 in) |
| Axial clearance | 0.14-0.36 mm (0.005-0.014 in) |
Overview The 2.5L (153 CID) 4-cylinder engine has the following features: Dual overhead camshafts Four valves per cylinder SFI Composite intake manifold Aluminum cylinder head Aluminum cylinder block Electronic ignition system with coil-on-plug 4 ignition coils Engine Identification Always refer to these labels when installation of new parts is ne..
Other information:
Special Tool(s) / General Equipment Interior Trim Remover Removal NOTE: Removal steps in this procedure may contain installation details. NOTE: LH door shown, RH door similar. NOTE: Do not use excessive force when removing retainers, to avoid damage to moulding. Using a non-marring trim tool, disengage the retainers attaching moulding to the door. Use the Ge..
Special Tool(s) / General Equipment Flat-Bladed Screwdriver Removal Non-functional lock cylinder NOTE: For non-functional ignition lock cylinders, replace the ignition lock cylinder housing. Remove the ignition lock cylinder housing. Refer to: Ignition Lock Cylinder Housing (211-05 Steering Wheel and Column Electrical Components, Removal and Installation). Fu..
Categories
Locating the Vehicle Identification Number
The vehicle identification number is on the left-hand side of the instrument panel.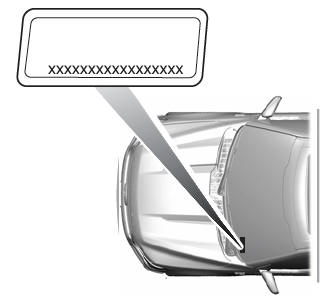 Copyright © 2023 www.fordescape4.com