Ford Escape: Engine Cooling / Specifications
Lubricants, Fluids, Sealants and Adhesives
Material: Motorcraft® Yellow Concentrated Antifreeze/Coolant / VC-13-G (WSS-M97B57-A1)
Material: Motorcraft® Yellow Prediluted Antifreeze/Coolant / VC-13DL-G (WSS-M97B57-A2)
Material: Motorcraft® Premium Cooling System Flush / VC-1 (ESR-M14P7-A)
Capacities
| | | |
| --- | --- | --- |
| Vehicle | FILL CAPACITY FOR HIGH TEMP CIRCUIT | FILL CAPACITY FOR LOW TEMP CIRCUIT |
| HEV | 9.62 qt ( 9.1 L) | 4.97 qt ( 4.7 L) |
| PHEV | 10.14 qt ( 9.6 L) | 6.55 qt ( 6.2 L) |
Cooling System Pressure
| | |
| --- | --- |
| Complete cooling system maximum pressure | 150 kPa (21.7 psi) |
| Pressure relief cap | 120 kPa (17.4 psi) to 150 kPa (21.7 psi) |
| Radiator pressure test (removed from the vehicle) | 138 kPa (20 psi) |
Thermostat Opening Temperatures
| | |
| --- | --- |
| Starts to open | 90°C (194°F) |
| Fully open | 106°C (223°F) |
NOTE: Coolant temperature will vary with ambient temperature and load. Temperatures shown are for ambient temperature of 38° C (100° F). Red arrows indicate a temperature over 90° C (194° F), Orange arrows indicate a temperature of approximately 90° C (194° F), Blue arrows indicate a temperature below 90° C (194° F)...
Other information:
Insulation WARNING: To prevent the risk of high-voltage shock, always follow precisely all warnings and service instructions, including instructions to depower the system. The high-voltage system utilizes approximately 300 volts DC, provided through high-voltage cables to its components and modules...
System Operation System Diagram Item Description 1 GWM 2 Ambient Air Temperature (AAT) sensor 3 PCM 4 A/C pressure transducer 5 A/C clutch relay 6 A/C compressor clutch field coil 7 HVAC Control Module 8 Air distribution door actuator 9 Temperature door actuator 10 Air inlet door actuator 11..
Categories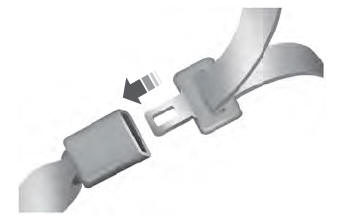 Insert the belt tongue into the proper buckle, the buckle closest to the direction the tongue is coming from, until it engages.
Copyright © 2023 www.fordescape4.com