Ford Escape: Hybrid Electric Vehicle Information / What is a Hybrid Electric Vehicle. How Does a Hybrid Electric Vehicle Work. Hybrid Electric Vehicle Driving Characteristics
What is a Hybrid Electric Vehicle
A hybrid vehicle has an electric motor and a high voltage battery combined with a gasoline engine.
How Does a Hybrid Electric Vehicle Work
The hybrid vehicle combines electric and gasoline propulsion to provide optimal performance and improved efficiency.
Hybrid Electric Vehicle Driving Characteristics
The gasoline engine starts and stops to provide power when required and to save fuel when not needed. When coasting at low speeds, coming to a stop or standing, the gas engine normally shuts down and your vehicle operates in electric-only mode.
Conditions that may cause the gasoline engine to start or remain running include:
Considerable vehicle acceleration.
Driving uphill.
The high voltage battery charge level is low.
Heating or cooling the vehicle interior in high or low outside temperatures.
The gasoline engine is below normal operating temperature.
Towing a trailer.
Certain selectable drive modes could cause the engine to run.
Your hybrid vehicle also comes with standard hydraulic braking and regenerative braking. Regenerative braking is performed by your transmission and captures brake energy and stores it in the high voltage battery.
You could also notice that your engine continues to run instead of shutting off during extended downhill driving. The engine stays on during this engine braking but is not using any fuel.
You could also hear a slight whine or whistle when operating your vehicle. This is the normal operation of the electric motor in the hybrid system.
When you start your vehicle, a green READY indicator light appears in the instrument cluster letting you know that your vehicle is ready for driving...
Other information:
Adaptive Cruise Control – Information Messages - Vehicles With: Lane Centering Note: Depending on your vehicle options and instrument cluster type, not all messages display or are available. Note: The system could abbreviate or shorten certain messages depending upon which cluster type you have...
Select Charge Preferences on the Charge Settings screen. Select Departure Time Setup on the Edit Charge Preferences screen. Two time settings show for each day of the week on the Departure Times schedule screen. Select any one. On the Departure Time settings screen, set your desired departure time, cabin temperature and days of the week to repeat...
Categories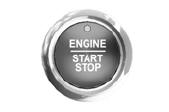 Switching the Ignition Off
When the ignition is on or in accessory mode, press the push button ignition switch once without your foot on the brake pedal.