Ford Escape: Navigation (If Equipped) / cityseeker (If Equipped)
Note: cityseeker point of interest (POI) information is limited to approximately 1,110 cities (1,049 in the United States, 36 in Canada and 15 in Mexico).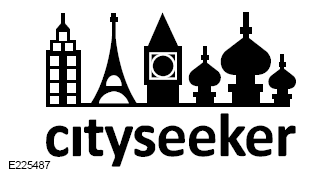 cityseeker, when available, is a service that provides more information about certain points of interest such as restaurants, hotels and attractions.
When you have selected a point of interest, the location and information appear, such as address, phone number and a star rating.
Press More Information to see a photo, a review, a list of services and facilities, the average room or meal price and the web address. This screen displays the point of interest icons.
For restaurants, cityseeker can provide information such as star rating, average cost, review, handicap access, hours of operation, and website address.
For hotels, cityseeker can provide information such as star rating, price category, review, check-in and checkout times, hotel service icons and website address. Hotel service icons include:
Restaurant
Business center
Handicap facilities
Laundry
Refrigerator
24 hour room service
Fitness center
Internet access
Pool
Wi-Fi
Attractions include nearby landmarks, amusement parks, historic buildings and more. cityseeker can provide information such as star rating, reviews, hour of operation and admission price.
Turn indicator. Select to hear the last voice prompt. Point of interest. Estimated time of arrival, distance to destination or time to destination...
SiriusXM Traffic and Travel Link (If Equipped) SiriusXM Traffic and Travel Link is available on vehicles equipped with navigation and only in select markets...
Other information:
Diagnostic Trouble Code (DTC) Chart Diagnostics in this manual assume a certain skill level and knowledge of Ford-specific diagnostic practices. REFER to: Diagnostic Methods (100-00 General Information, Description and Operation). Module DTC Description Action PCM P0234:00 Turbocharger/Supercharger 'A' Overboost Condition: No Sub Type Information GO to Pinpoint Test HN PCM ..
Electric Power Steering Electric Power Steering Precautions WARNING: The electric power steering system has diagnostic checks that continuously monitor the system. If a fault is detected, a message displays in the information display. Stop your vehicle as soon as it is safe to do so. Switch the vehicle off. After at least 10 seconds, switch the vehicle on and watch the information display ..