Ford Escape: Using the Tire Sealant and Inflator Kit / What to do after the tire has been sealed
After using the kit to seal your tire, you will need to replace the sealant canister. Sealant canisters and spare parts can be obtained at an authorized dealer. Empty sealant canisters may be disposed of at home. However, canisters still containing liquid sealant should be disposed of in accordance with local waste disposal regulation.
Removal of the sealant canister from the kit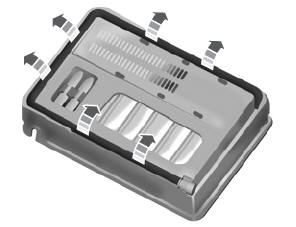 Unwrap the dual purpose hose (black tube) from the compressor housing.

Unwrap the power cord.

Remove the back cover.

Rotate the sealant canister up 90 degrees and pull away from casing/housing to remove.
Installation of the sealant canister to the kit
With the canister held perpendicular to the housing, insert the canister nozzle into the connector and push until seated.
Rotate the canister 90 degrees down into the housing/casing.

Snap the back cover back into place.

Wrap the dual purpose hose (black tube) around the channel on the bottom of the housing/casing.

Wrap the power cord around the housing and stow the accessory power plug.
WARNING: If the tire does not inflate to the recommended tire pressure within 15 minutes, stop and call roadside assistance. WARNING: The power plug may get hot after use and should be handled carefully when unplugging...
Other information:
Active Park Assist – Information Messages Active Park Assist – Frequently Asked Questions Why does active park assist not operate correctly? The system is unable to detect a vehicle, curb or object to park next to or in between. The system needs boundary objects to operate correctly. Why does active park assist not search for a parking space? You have switched traction control off. Why doe..
What Is the Cabin Air Filter The cabin air filter improves the quality of air in your vehicle by trapping dust, pollen and other particles. Replacing the Cabin Air Filter Replace the filter at regular intervals. The cabin air filter is behind the glove compartment. To remove the lower glove compartment and access the filter: Open the glove compartment. Press the tab on each side. Fully low..
Categories
Locating the Under Hood Fuse Box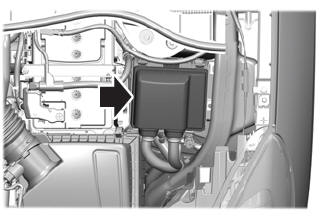 Accessing the Under Hood Fuse Box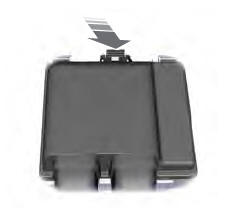 Pull the latch toward you and remove the top cover.