Ford Escape: Climate Control System - General Information / Description and Operation - Climate Control System - Vehicles With: Electronic Manual Temperature Control (EMTC) - Component Location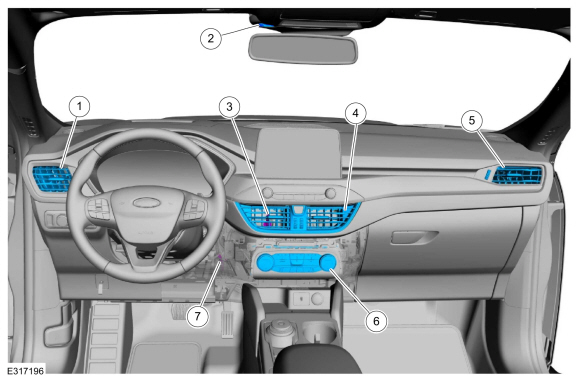 | Item | Description |
| --- | --- |
| 1 | Driver side register |
| 2 | In-vehicle temperature & humidity sensor |
| 3 | Driver side register air discharge temperature sensor |
| 4 | Center registers |
| 5 | Passenger side register |
| 6 | HVAC control module |
| 7 | Driver side footwell air discharge temperature sensor |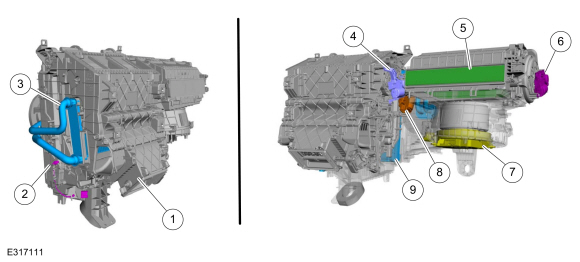 | Item | Description |
| --- | --- |
| 1 | Climate control housing |
| 2 | Evaporator temperature sensor |
| 3 | Heater core |
| 4 | Air distribution door actuator |
| 5 | Cabin air filter |
| 6 | Air inlet door actuator |
| 7 | Blower motor control module |
| 8 | Temperature door actuator |
| 9 | Evaporator |
Gas engine
| Item | Description |
| --- | --- |
| 1 | Thermostatic expansion valve manifold and tube assembly |
| 2 | Thermostatic expansion valve |
| 3 | A/C compressor inlet line |
| 4 | A/C condenser to thermostatic expansion valve manifold and tube assembly line |
| 5 | Desiccant bag |
| 6 | Condenser |
| 7 | A/C compressor |
| 8 | A/C compressor outlet line |
| 9 | A/C pressure transducer |
| 10 | Condensation drain |
| A | A/C compressor inlet line to A/C thermostatic expansion valve manifold and tube assembly fitting |
| B | Low side service port |
| C | Thermostatic expansion valve fitting |
| D | High side service port |
| E | Condenser to thermostatic expansion valve manifold and tube assembly fitting |
| F | Condenser outlet fitting |
| G | Condenser inlet fitting |
| H | Compressor inlet fitting |
| I | Compressor outlet fitting |
Hybrid engine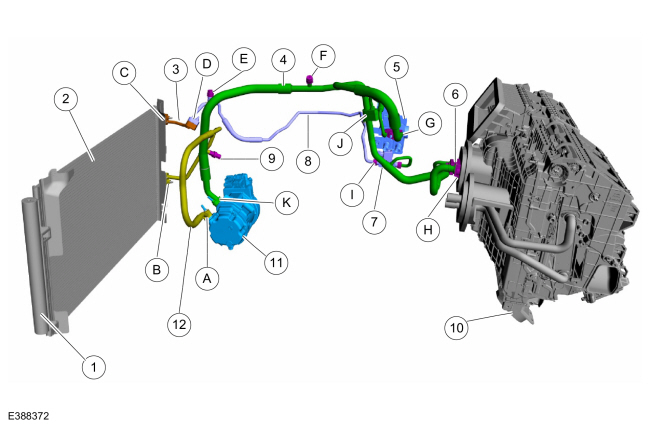 | Item | Description |
| --- | --- |
| 1 | Desiccant bag |
| 2 | Condenser |
| 3 | A/C condenser to thermostatic expansion valve manifold and tube assembly line |
| 4 | Thermostatic expansion valve manifold and tube assembly |
| 5 | High voltage battery coolant cooler |
| 6 | Thermostatic expansion valve |
| 7 | Front evaproator shutoff valve |
| 8 | Front vaproator shutoff valve line |
| 9 | A/C pressure transducer |
| 10 | Condensation drain |
| 11 | A/C compressor |
| 12 | A/C compressor outlet line |
| A | Compressor outlet fitting |
| B | Condenser inlet fitting |
| C | Condenser outlet fitting |
| D | Condenser to Front vaproator shutoff valve line fitting |
| E | High side service port |
| F | Low side service port |
| G | High voltage battery coolant cooler fitting |
| H | Thermostatic expansion valve fitting |
| I | Front evaproator shutoff valve fitting |
| J | A/C thermostatic expansion valve manifold and tube assembly fitting |
| K | Compressor inlet fitting |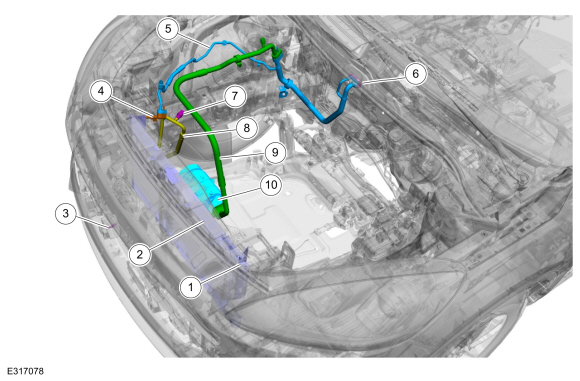 | Item | Description |
| --- | --- |
| 1 | Desiccant bag |
| 2 | Condenser |
| 3 | Ambient air temperature sensor |
| 4 | Condenser outlet line |
| 5 | Thermostatic expansion valve manifold and tube assembly |
| 6 | Thermostatic Expansion Valve |
| 7 | A/C pressure transducer |
| 8 | A/C compressor outlet line |
| 9 | A/C compressor inlet line |
| 10 | A/C compressor |
Hybrid vehicles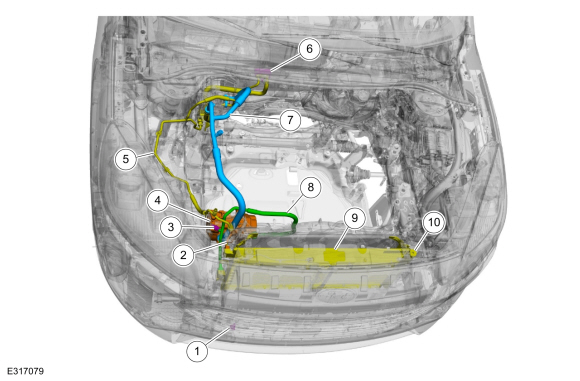 | Item | Description |
| --- | --- |
| 1 | Ambient air temperature sensor |
| 2 | Condenser outlet line |
| 3 | A/C pressure transducer |
| 4 | A/C compressor |
| 5 | Thermostatic expansion valve manifold and tube assembly |
| 6 | Thermostatic Expansion Valve |
| 7 | A/C compressor inlet line |
| 8 | A/C compressor outlet line |
| 9 | Condenser |
| 10 | Desiccant bag |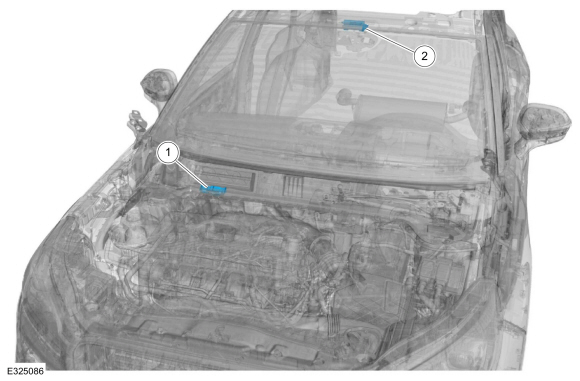 | Item | Description |
| --- | --- |
| 1 | ( If equipped) Ambient air quality sensor |
| 2 | ( If equipped) In-vehicle air quality particulate sensor |
Overview The DATC system maintains the selected vehicle interior temperature by heating and/or cooling the air depending on the HVAC control panel selection...
Other information:
Overview Multiplexing is a method of sending 2 or more signals simultaneously over a single circuit. Multiplexing allows 2 or more electronic modules (nodes) to communicate over a twisted wire pair [data (+) and data (-)] network. The information or messages that can be communicated on these wires consists of commands, status or data...
Locating the Brake Fluid Reservoir See Under Hood Overview. Checking the Brake Fluid WARNING: Do not use any fluid other than the recommended brake fluid as this will reduce brake efficiency. Use of incorrect fluid could result in the loss of vehicle control, serious personal injury or death...
Categories
These are some of the symbols you may see on your vehicle.

Air conditioning system
Copyright © 2023 www.fordescape4.com