Ford Escape: Climate Control System - General Information / Description and Operation - Climate Control System - Vehicles With: Electronic Manual Temperature Control (EMTC) - Component Location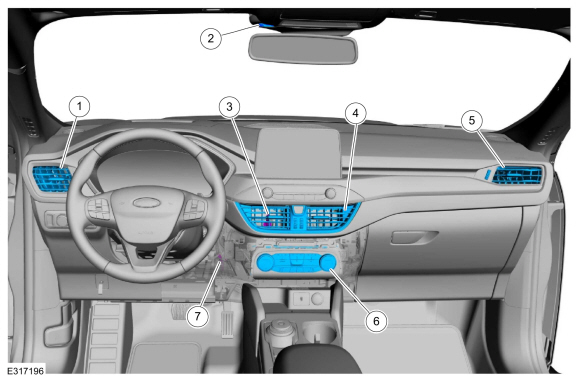 | Item | Description |
| --- | --- |
| 1 | Driver side register |
| 2 | In-vehicle temperature & humidity sensor |
| 3 | Driver side register air discharge temperature sensor |
| 4 | Center registers |
| 5 | Passenger side register |
| 6 | HVAC control module |
| 7 | Driver side footwell air discharge temperature sensor |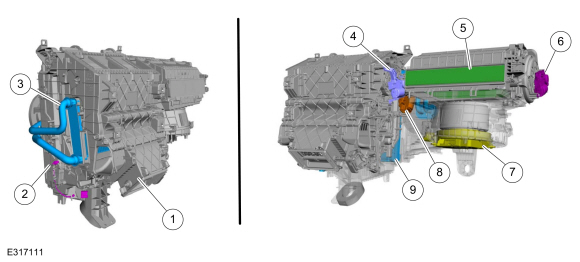 | Item | Description |
| --- | --- |
| 1 | Climate control housing |
| 2 | Evaporator temperature sensor |
| 3 | Heater core |
| 4 | Air distribution door actuator |
| 5 | Cabin air filter |
| 6 | Air inlet door actuator |
| 7 | Blower motor control module |
| 8 | Temperature door actuator |
| 9 | Evaporator |
Gas engine
| Item | Description |
| --- | --- |
| 1 | Thermostatic expansion valve manifold and tube assembly |
| 2 | Thermostatic expansion valve |
| 3 | A/C compressor inlet line |
| 4 | A/C condenser to thermostatic expansion valve manifold and tube assembly line |
| 5 | Desiccant bag |
| 6 | Condenser |
| 7 | A/C compressor |
| 8 | A/C compressor outlet line |
| 9 | A/C pressure transducer |
| 10 | Condensation drain |
| A | A/C compressor inlet line to A/C thermostatic expansion valve manifold and tube assembly fitting |
| B | Low side service port |
| C | Thermostatic expansion valve fitting |
| D | High side service port |
| E | Condenser to thermostatic expansion valve manifold and tube assembly fitting |
| F | Condenser outlet fitting |
| G | Condenser inlet fitting |
| H | Compressor inlet fitting |
| I | Compressor outlet fitting |
Hybrid engine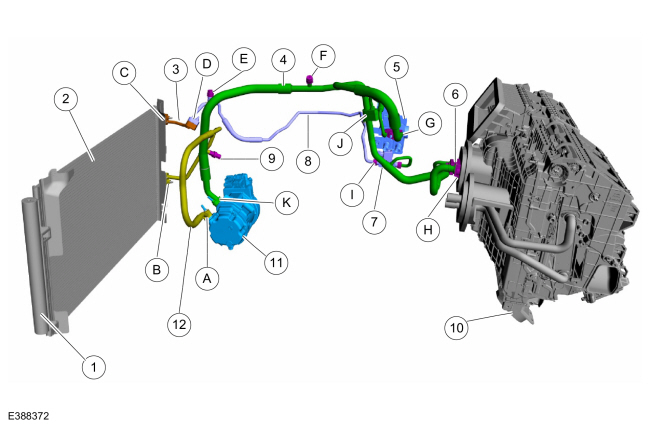 | Item | Description |
| --- | --- |
| 1 | Desiccant bag |
| 2 | Condenser |
| 3 | A/C condenser to thermostatic expansion valve manifold and tube assembly line |
| 4 | Thermostatic expansion valve manifold and tube assembly |
| 5 | High voltage battery coolant cooler |
| 6 | Thermostatic expansion valve |
| 7 | Front evaproator shutoff valve |
| 8 | Front vaproator shutoff valve line |
| 9 | A/C pressure transducer |
| 10 | Condensation drain |
| 11 | A/C compressor |
| 12 | A/C compressor outlet line |
| A | Compressor outlet fitting |
| B | Condenser inlet fitting |
| C | Condenser outlet fitting |
| D | Condenser to Front vaproator shutoff valve line fitting |
| E | High side service port |
| F | Low side service port |
| G | High voltage battery coolant cooler fitting |
| H | Thermostatic expansion valve fitting |
| I | Front evaproator shutoff valve fitting |
| J | A/C thermostatic expansion valve manifold and tube assembly fitting |
| K | Compressor inlet fitting |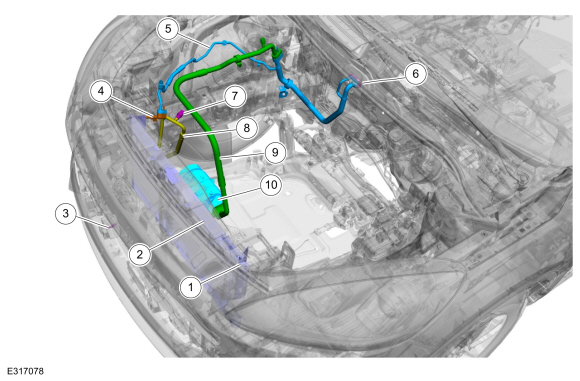 | Item | Description |
| --- | --- |
| 1 | Desiccant bag |
| 2 | Condenser |
| 3 | Ambient air temperature sensor |
| 4 | Condenser outlet line |
| 5 | Thermostatic expansion valve manifold and tube assembly |
| 6 | Thermostatic Expansion Valve |
| 7 | A/C pressure transducer |
| 8 | A/C compressor outlet line |
| 9 | A/C compressor inlet line |
| 10 | A/C compressor |
Hybrid vehicles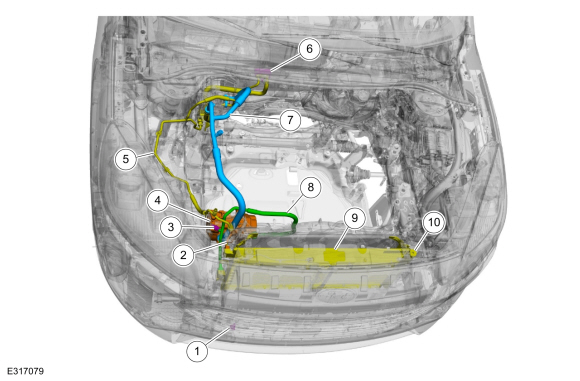 | Item | Description |
| --- | --- |
| 1 | Ambient air temperature sensor |
| 2 | Condenser outlet line |
| 3 | A/C pressure transducer |
| 4 | A/C compressor |
| 5 | Thermostatic expansion valve manifold and tube assembly |
| 6 | Thermostatic Expansion Valve |
| 7 | A/C compressor inlet line |
| 8 | A/C compressor outlet line |
| 9 | Condenser |
| 10 | Desiccant bag |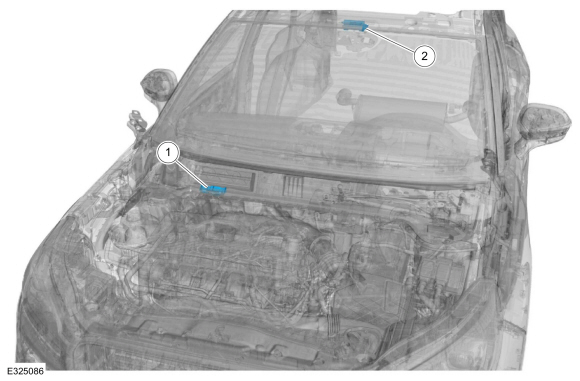 | Item | Description |
| --- | --- |
| 1 | ( If equipped) Ambient air quality sensor |
| 2 | ( If equipped) In-vehicle air quality particulate sensor |
Overview The DATC system maintains the selected vehicle interior temperature by heating and/or cooling the air depending on the HVAC control panel selection...
Other information:
Non-Configurable MyKey Settings Seatbelt Reminder or Belt-Minder™ MyKey mutes the audio system until the front seat passengers buckle the front seat belts. Note: If your vehicle includes an AM/FM radio or a very basic audio system, then the radio may not mute...
Special Tool(s) / General Equipment Trolley Jack Wooden Block Removal NOTE: Removal steps in this procedure may contain installation details. With the vehicle in NEUTRAL, position it on a hoist. Refer to: Jacking and Lifting - Overview (100-02 Jacking and Lifting, Description and Operation)...
Categories
These are some of the symbols you may see on your vehicle.

Air conditioning system
Copyright © 2022 www.fordescape4.com