Ford Escape: Climate Control System - General Information / Description and Operation - Climate Control System - Vehicles With: Dual Automatic Temperature Control (DATC)/Electronic Automatic Temperature Control (EATC) - Component Location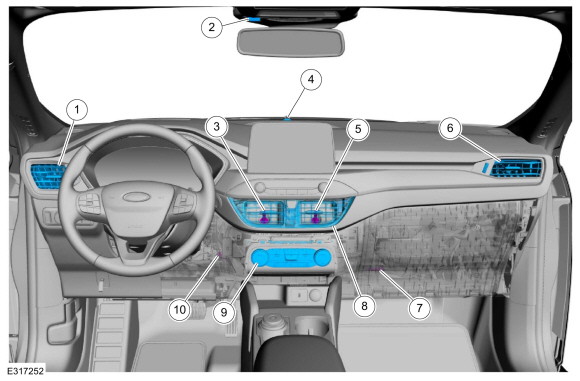 | Item | Description |
| --- | --- |
| 1 | Driver side register |
| 2 | In-vehicle temperature & humidity sensor |
| 3 | Driver side register air discharge temperature sensor |
| 4 | Sunload sensor |
| 5 | Passenger side register air discharge temperature sensor |
| 6 | Passenger side register |
| 7 | Passenger side footwell air discharge temperature sensor |
| 8 | Center registers |
| 9 | HVAC control module |
| 10 | Driver side footwell air discharge temperature sensor |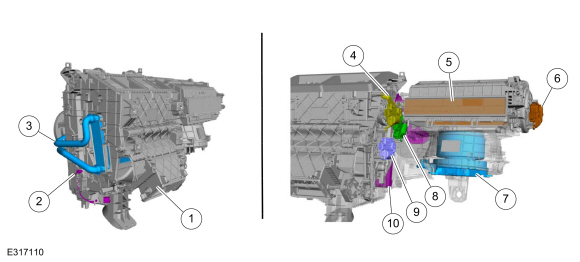 | Item | Description |
| --- | --- |
| 1 | Climate control housing |
| 2 | Evaporator temperature sensor |
| 3 | Heater core |
| 4 | Air distribution door actuator |
| 5 | Cabin air filter |
| 6 | Air inlet door actuator |
| 7 | Blower motor control module |
| 8 | Temperature door actuator |
| 9 | Passenger side temperature door actuator |
| 10 | Evaporator |
Gas engine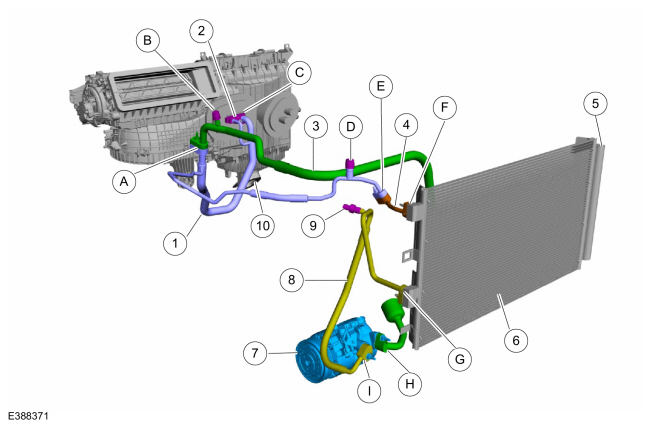 | Item | Description |
| --- | --- |
| 1 | Thermostatic expansion valve manifold and tube assembly |
| 2 | Thermostatic expansion valve |
| 3 | A/C compressor inlet line |
| 4 | A/C condenser to thermostatic expansion valve manifold and tube assembly line |
| 5 | Desiccant bag |
| 6 | Condenser |
| 7 | A/C compressor |
| 8 | A/C compressor outlet line |
| 9 | A/C pressure transducer |
| 10 | Condensation drain |
| A | A/C compressor inlet line to A/C thermostatic expansion valve manifold and tube assembly fitting |
| B | Low side service port |
| C | Thermostatic expansion valve fitting |
| D | High side service port |
| E | Condenser to thermostatic expansion valve manifold and tube assembly fitting |
| F | Condenser outlet fitting |
| G | Condenser inlet fitting |
| H | Compressor inlet fitting |
| I | Compressor outlet fitting |
Hybrid engine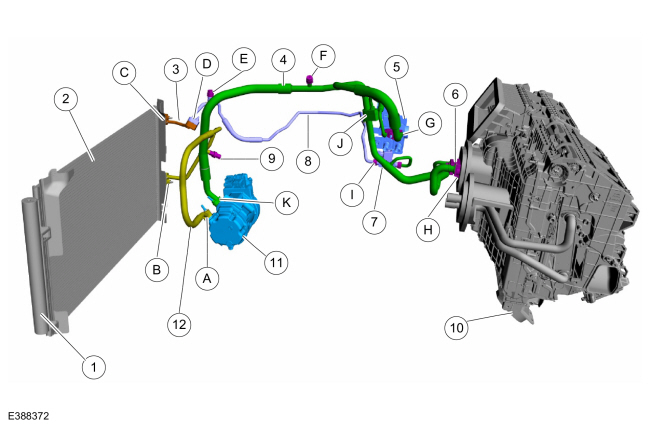 | Item | Description |
| --- | --- |
| 1 | Desiccant bag |
| 2 | Condenser |
| 3 | A/C condenser to thermostatic expansion valve manifold and tube assembly line |
| 4 | Thermostatic expansion valve manifold and tube assembly |
| 5 | High voltage battery coolant cooler |
| 6 | Thermostatic expansion valve |
| 7 | Front evaproator shutoff valve |
| 8 | Front vaproator shutoff valve line |
| 9 | A/C pressure transducer |
| 10 | Condensation drain |
| 11 | A/C compressor |
| 12 | A/C compressor outlet line |
| A | Compressor outlet fitting |
| B | Condenser inlet fitting |
| C | Condenser outlet fitting |
| D | Condenser to Front vaproator shutoff valve line fitting |
| E | High side service port |
| F | Low side service port |
| G | High voltage battery coolant cooler fitting |
| H | Thermostatic expansion valve fitting |
| I | Front evaproator shutoff valve fitting |
| J | A/C thermostatic expansion valve manifold and tube assembly fitting |
| K | Compressor inlet fitting |
Gas Engines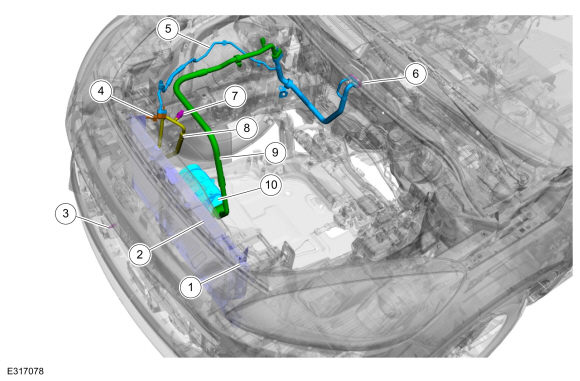 | Item | Description |
| --- | --- |
| 1 | Desiccant bag |
| 2 | Condenser |
| 3 | Ambient air temperature sensor |
| 4 | Condenser outlet line |
| 5 | Thermostatic expansion valve manifold and tube assembly |
| 6 | Thermostatic Expansion Valve |
| 7 | A/C pressure transducer |
| 8 | A/C compressor outlet line |
| 9 | A/C compressor inlet line |
| 10 | A/C compressor |
Hybrid Engine
| Item | Description |
| --- | --- |
| 1 | Ambient air temperature sensor |
| 2 | Condenser outlet line |
| 3 | A/C pressure transducer |
| 4 | A/C compressor |
| 5 | Thermostatic expansion valve manifold and tube assembly |
| 6 | Thermostatic Expansion Valve |
| 7 | A/C compressor inlet line |
| 8 | A/C compressor outlet line |
| 9 | Condenser |
| 10 | Desiccant bag |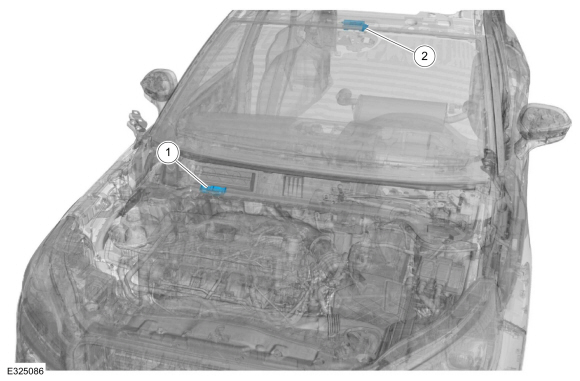 | Item | Description |
| --- | --- |
| 1 | ( If equipped) Ambient air quality sensor |
| 2 | ( If equipped) In-vehicle air quality particulate sensor |
Item Description 1 Driver side register 2 In-vehicle temperature & humidity sensor 3 Driver side register air discharge temperature sensor 4 Center registers 5 Passenger side register 6 HVAC control module 7 Driver side footwell air discharge temperature sensor Item Description 1 Climate control housing ..
Other information:
General Equipment Diagnostic Battery Charger Use Ford approved battery test equipment listed in the Ford Warranty and Policy Manual. Diagnostics in this manual assume a certain skill level and knowledge of Ford-specific diagnostic practices.REFER to: Diagnostic Methods (100-00 General Information, Description and Operation). Global Customer Symptom Code (GCSC) Chart Diagnos..
Vertical Aim Adjustment The headlamps on your vehicle are properly aimed at the assembly plant. If your vehicle has been in an accident, the alignment of your headlamps should be checked by your authorized dealer. 8 feet (2.4 meters) Center height of lamp to ground 25 feet (7.6 meters) Horizontal reference line Park the vehicle directly in front of a wall or screen on a level..
Categories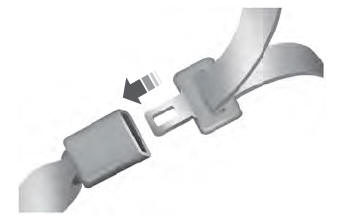 Insert the belt tongue into the proper buckle, the buckle closest to the direction the tongue is coming from, until it engages.
Copyright © 2023 www.fordescape4.com