Ford Escape: Pre-Collision Assist / Distance Indication
What Is Distance Indication
Distance indication displays the gap between your vehicle and the vehicle ahead of you.
Note: The graphic does not display if you switch on cruise control or adaptive cruise control.

Switching Distance Indication On and Off
To switch the system on or off, use the touchscreen:
Press Settings on the touchscreen.
Press Driver Assistance.
Press Pre-Collision Assist.
Press Distance Indication.
Distance Indication Indicator
The indicator displays the time gap between your vehicle and vehicles traveling in the same direction ahead of you.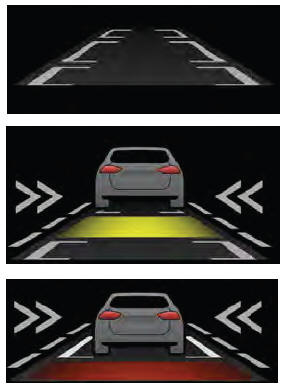 Camera. Radar sensor (if equipped). If a message regarding a blocked sensor or camera appears in the information display, something is obstructing the radar signals or camera images...
Distance Alert What Is Distance Alert The system alerts you with a warning lamp if the distance to the vehicle ahead is small. Note: The warning lamp does not illuminate if cruise control or adaptive cruise control is active...
Other information:
1.5L EcoBoost™ 2.0L EcoBoost™ The long drive belt is on the first pulley groove closest to the engine. The short drive belt is on the second pulley groove farthest from engine. ..
Your vehicle has electronic control units that have the ability to store data based on your personalized settings. The data is stored locally in the vehicle or on devices that you connect to it, for example, a USB drive or digital music player. You can delete some of this data and also choose whether to share it through the services to which you subscribe. Comfort and Convenience Data Da..