Ford Escape: Handles, Locks, Latches and Entry Systems / General Procedures - Door Latch Lubrication
Special Tool(s) / General Equipment
Materials
Name
Specification
Motorcraft® Multi-Purpose Grease Spray
XL-5-A
ESB-M1C93-B

Activation
NOTE: Typical left front door shown, others similar.
Open the door.

Using a flat blade screwdriver, fully close the latch (2 clicks).
Use the General Equipment: Flat-Bladed Screwdriver
NOTICE: Do not over-lubricate the latch. Using excessive grease may damage the internal lock motor.

Spray the multi-purpose grease into the opening on the door latch for approximately 5 seconds.
Material: Motorcraft® Multi-Purpose Grease Spray / XL-5-A (ESB-M1C93-B)
NOTE: Some exterior door handles are operated mechanically while other exterior door handles are operated electronically.

Open the latch using the exterior door handle.

Open and close the door several times to circulate the lubricant inside the latch.

Open the door.

Wipe off any excess grease.

Categories
Engine Oil Dipstick Overview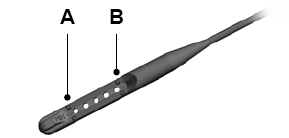 Minimum. Maximum.
Copyright © 2023 www.fordescape4.com