Ford Escape: Crash and Breakdown Information / Transporting the Vehicle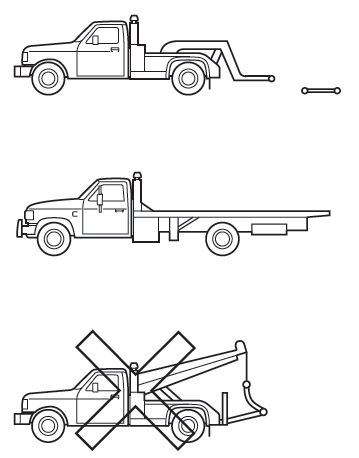 If you need to tow your vehicle, contact a professional towing service or your roadside assistance service provider.
Your manufacturer produces a towing manual for all authorized tow truck operators. Have your tow truck operator refer to this manual for proper hook-up and towing procedures.
We recommend the use of a wheel lift and dollies or flatbed equipment to tow your vehicle. Vehicle damage could occur if towed incorrectly, or by any other means.
Front-wheel and rear-wheel drive vehicles must have their designated drive wheels off the ground regardless of towing direction. Use tow dollies to prevent damage to the transmission.
All-wheel or four-wheel drive vehicles require that all wheels be off the ground using a wheel lift and dollies or flatbed equipment. This prevents damage to the transmission and drive system.
Post-Crash Alert System What Is the Post-Crash Alert System The system helps draw attention to your vehicle in the event of a serious impact. How Does the Post-Crash Alert System Work The system is designed to turn the hazard flashers on and to intermittently sound the horn in the event of a serious impact that deploys an airbag or the seatbelt pretensioners...
Other information:
What Is the High Voltage Battery The high voltage battery is a highly sophisticated lithium ion battery system, used to store electrified energy to power the vehicle. High Voltage Battery Precautions WARNING: This battery pack should only be serviced by an authorized electric vehicle technician. Improper handling can result in personal injury or death. WARNING: Keep your hands and clothing..
Removal NOTE: Removal steps in this procedure may contain installation details. NOTICE: Do not pull the engine appearance cover forward or sideways to remove. Failure to press straight upward on the underside of the cover at the attachment points may result in damage to the cover or engine components. NOTE: Lubricating the grommets with silicone grease will aid in the inst..
Categories
Locating the Vehicle Identification Number
The vehicle identification number is on the left-hand side of the instrument panel.