Ford Escape: Drive Mode Control / What Is Drive Mode Control
The system delivers a driving experience through a suite of sophisticated electronic vehicle systems. These systems optimize steering, handling and powertrain response. This provides a single location to control multiple systems performance settings.
Changing the drive mode changes the functionality of the following systems:
Electric power-assisted steering system adjusts steering effort and feel based on the mode you select.
Electronic stability control and traction control maintain your vehicle control in adverse conditions or high performance driving.
Electronic throttle control enhances the powertrain response to your driving inputs.
Transmission controls become optimized with shift schedules tuned to each mode.
Four-wheel drive settings are optimized and tuned to each mode.
Electric vehicle mode selections may be limited.
The system tailors your vehicle configuration for each mode you select.
Note: Not all settings may be available.
Note: The system has diagnostic checks that continuously monitor the system for proper operation. If a mode is unavailable due to a system fault or change in gear shifter position, the mode defaults to Normal.
Selecting a Drive Mode - Plug-In Hybrid Electric Vehicle (PHEV) To select drive modes, use the console mounted control. Note: Drive mode changes may not be available when the ignition is off...
Other information:
Special Tool(s) / General Equipment Resistance Spotwelding Equipment Scraper for Straight Edges Hot Air Gun 8 mm Drill Bit MIG/MAG Welding Equipment Spot Weld Drill Bit Locking Pliers Materials Name Specification Metal Bonding AdhesiveTA-1, TA-1-B, 3M™ 08115, LORD Fusor® 108B, Henkel Teroson EP 5055 - Seam SealerTA-2-B, 3M™ 08308, ..
Special Tool(s) / General Equipment Feeler Gauge Check NOTE: Refer to the appropriate Section 303-01 for the specification. NOTE: Use a Straightedge that is calibrated by the manufacturer to be flat within 0.005 mm (0.0002 in) per running foot of length, such as Snap-On® GA438A or equivalent. For example, if the Straightedge is 61 cm (24 in) long, the machined edge m..
Categories
What Is the Master Access Code
The master access code is a factory-set five-digit entry code. You can operate the keypad with the master access code at any time. The master access code is on the owner's wallet card in the glove box and is available from an authorized dealer.
Displaying the Master Access Code
To display the factory-set code in the information display: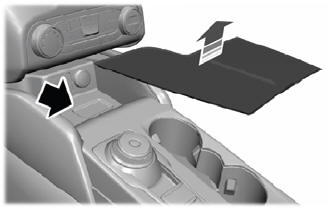 Remove the rubber mat. Insert the first programmed key in the backup slot. Press the push button ignition switch once and wait a few seconds. Press the push button ignition switch again and remove the key. Within 10 seconds, place a second programmed intelligent access key in the backup slot and press the push button ignition switch.