Ford Escape: Navigation (If Equipped) / Route Guidance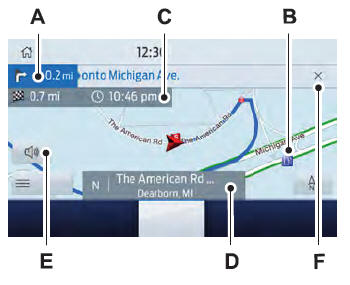 Turn indicator. Select to hear the last voice prompt.
Point of interest.
Estimated time of arrival, distance to destination or time to destination.
Current road.
Mute guidance prompts.
Cancel route guidance.
Note: To change guidance prompt volume, turn the volume control when a guidance prompt plays.
Route Guidance Menu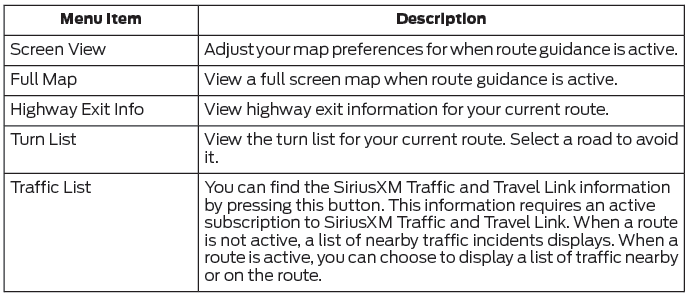 Adjusting the Guidance Prompt Volume
Turn the volume control when a guidance prompt plays to adjust the volume.
Note: If you have inadvertently adjusted the volume to zero, press the turn indicator button to play the last voice prompt and then adjust the volume to the desired level.
Muting Guidance Prompts

Select the mute option on the screen to mute guidance prompts.
Note: The system mutes the next and all future guidance prompts.
Adding Waypoints
You can add a waypoint to a navigation route as a destination along your route. You can add up to five waypoints.
Select the search option on the map.
Set a destination.
Select Add Waypoint.
Select Go.
Canceling Route Guidance

Select the route guidance menu option on the active guidance screen.
Select Cancel Route.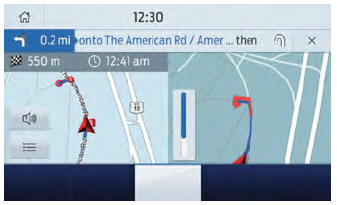 Note: The route guidance menu option is always in the bottom right-hand corner of the main map.
Display the map in one of the following formats: A two-dimensional map with the direction you are traveling toward the top of the screen. A two-dimensional map with north toward the top of the screen...
Note: cityseeker point of interest (POI) information is limited to approximately 1,110 cities (1,049 in the United States, 36 in Canada and 15 in Mexico)...
Other information:
Component Location, Parking Aid - Audible without 360 Degree View Camera Item Description 1 Rear parking aid sensors 2 Parking aid switch 3 Front speakers (part of audio system) 4 Front parking aid sensors 5 Front active park assist sensors 6 PAM 7 Rear speakers (part of audio system) 8 Rear side sensors ..
You can create a Wi-Fi hotspot in your vehicle and allow devices to connect to it for access to the Internet. Press the button to enter the settings menu. Select Connectivity Features. Select Vehicle Hotspot.Note: The vehicle hotspot default setting is on. Select Settings. Make sure that you have Wi-Fi visibility switched on.Note: The Wi-Fi Visibility default setting is on. Finding t..