Ford Escape: Parking Brake and Actuation / General Procedures - Electronic Parking Brake (EPB) Manual Release
Activation
NOTE: If the EPB cannot be released using the switch carry out the following procedure. If the battery is dead, jump start the battery to provide power and release the EPB using the switch.
NOTE: Typical parking brake actuator motor shown.
Block the wheels and tires.

Disconnect the parking brake actuator motor electrical connector and, if equipped, detach the wiring retainer.

Remove the bolts and using a twisting motion, remove the parking brake actuator motor.

Rotate the spindle / nut driveshaft clockwise 360 degrees.

Repeat steps 2-4 on the opposite side of the vehicle.

Install the parking brake actuator motors.
Refer to: Parking Brake Actuator Motor (206-05 Parking Brake and Actuation, Removal and Installation).

Categories
Locating the Under Hood Fuse Box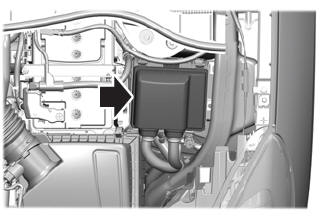 Accessing the Under Hood Fuse Box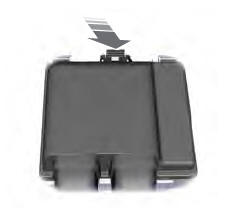 Pull the latch toward you and remove the top cover.
Copyright © 2023 www.fordescape4.com