Ford Escape: Using Voice Recognition / Navigation Voice Commands (If Equipped)
Setting a Destination
You can use any of the following commands to set a destination or find a point of interest.
___ is a dynamic listing, meaning that for navigation voice commands it can be a POI category or a major brand name, where major brand name is a chain with more than 20 locations
You can find an address, a point of interest (POI), or search for points of interest by category: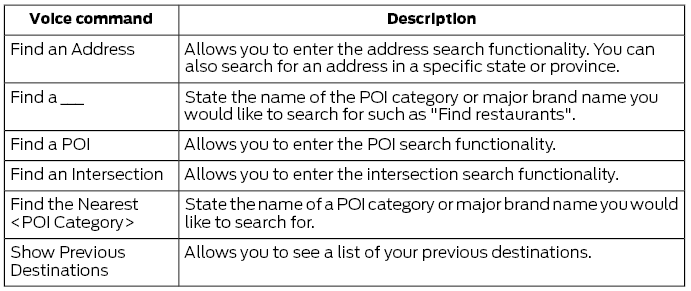 In addition, you can say these commands when a route is active: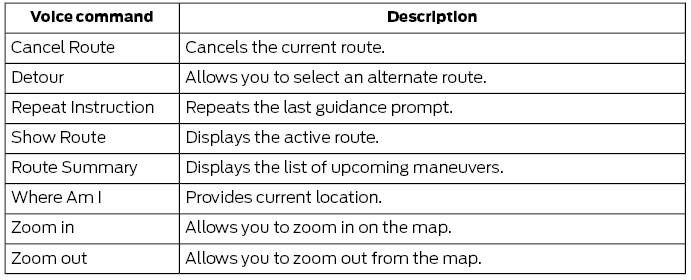 The following voice commands are always available: There are also voice commands that you can use when app(s) are connected to SYNC 3: ..
Other information:
WARNING: Service of Compressed Natural Gas (CNG) or Liquefied Petroleum Gas (LPG) vehicle systems is restricted to qualified personnel and authorized workshops. The required qualifications vary by region. Always observe local laws and legislative directives regarding CNG or LPG vehicle service. Failure to follow this instruction may result in serious personal injury or death. &n..
WARNING: Do not remove or alter the original equipment floor covering or insulation between it and the metal floor of the vehicle. The floor covering and insulation protect occupants of the vehicle from the engine and exhaust system heat and noise. On vehicles with no original equipment floor covering insulation, do not carry passengers in a manner that permits prolonged skin contact wit..