Ford Escape: Using Voice Recognition / Navigation Voice Commands (If Equipped)
Setting a Destination
You can use any of the following commands to set a destination or find a point of interest.
___ is a dynamic listing, meaning that for navigation voice commands it can be a POI category or a major brand name, where major brand name is a chain with more than 20 locations
You can find an address, a point of interest (POI), or search for points of interest by category: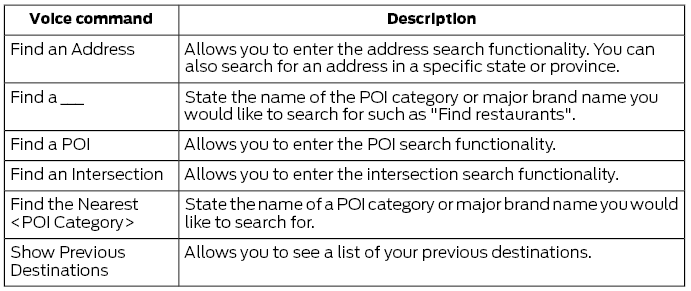 In addition, you can say these commands when a route is active: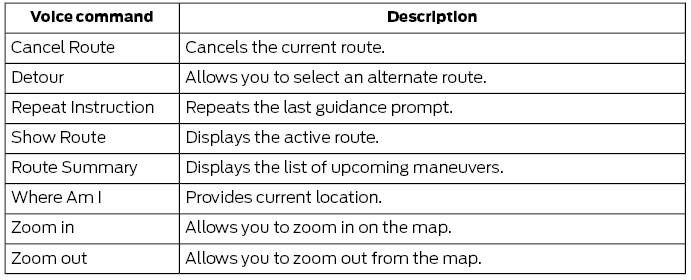 The following voice commands are always available: There are also voice commands that you can use when app(s) are connected to SYNC 3: ..
Other information:
Transmission Fluid Pump The transmission fluid pump is an internal pump bolted to the transmission case. The transmission fluid pump is turned by the input shaft and circulates transmission fluid through the transmission for lubrication and through an oil-to-air cooler mounted in the front of the radiator for transmission cooling. The transmission fluid pump only operates when the engin..
Special Tool(s) / General Equipment 307-163 (T86P-70043-A) Remover, Stator Case BearingTKIT-1986-LMTKIT-1986-F 307-586Differential bearing cup removerTKIT-2006UF-FLMTKIT-2006UF-ROW 307-741Spring Compressor, F Clutch 307-821Motor Rotor Remover Installer 308-001 (T58L-101-B) Remover, Pilot Bearing Hydraulic Press Puller Punch Wooden Block ..