Ford Escape: Rear Suspension / Removal and Installation - Rear Stabilizer Bar Link
Removal
NOTICE: Suspension fasteners are critical parts that affect the performance of vital components and systems. Failure of these fasteners may result in major service expense. Use the same or equivalent parts if replacement is necessary. Do not use a replacement part of lesser quality or substitute design. Tighten fasteners as specified.
NOTE: Removal steps in this procedure may contain installation details.
With the vehicle in NEUTRAL, position it on a hoist.
Refer to: Jacking and Lifting - Overview (100-02 Jacking and Lifting, Description and Operation).

NOTICE: Do not use power tools to remove the stabilizer bar link nut. Damage to the stabilizer bar link ball joint or boot may occur.

NOTE: The stabilizer bar links are designed with low friction ball joints that have a low breakaway torque.

NOTE: Use the TORX PLUS® holding feature to prevent the ball stud from turning while removing or installing the lower arm outboard nut. Torx® and TORX PLUS® is a reg. tm of Acument Intellectual Properties, LLC.

Remove and discard the rear stabilizer link upper nut.
Torque: 85 lb.ft (115 Nm)

Remove and discard the rear tabilizer link lower nut.
Torque: 85 lb.ft (115 Nm)

Remove the rear stabilizer link.

Installation
To install, reverse the removal procedure.

Categories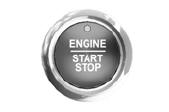 Switching the Ignition Off
When the ignition is on or in accessory mode, press the push button ignition switch once without your foot on the brake pedal.
Copyright © 2023 www.fordescape4.com